Summer Meeting of the
IFIP Working Group 10.4 on Dependable Computing and Fault Tolerance
The Intelligent Vehicle Dependability and Security (IVDS) project of IFIP Working Group 10.4 (Dependable Computing and Fault Tolerance) will host its 2nd workshop in June, 2022. This follows a successful First IVDS Workshop, held (virtually) in January, 2021. Working Group 10.4, through its workshops, its affiliations with larger conferences, and landmark publications by many of its members, has contributed significantly to both R&D and application of highly dependable and secure computing systems since its establishment in 1980.
Workshop Focus: How to Survive Cyber Attacks on Safety-Critical Functions of Intelligent Vehicles
Goal: Discuss design solutions, quantitative cyber-survivability measures, and verification and validation with regard to impact on AV safety.
Specific Topics & Issues:
Maturity of techniques: Theoretical analysis, modeling, simulation, lab experiments, component and system test & verification, penetration testing, real-world test runs, etc.
Gaps in capability of techniques and current research in filling those gaps
Industry use and awareness of existing techniques
Integration of techniques to provide a holistic safety argument
Novel system architecture and design solutions for cyber survivability
Desired Outcome: A set of specific actions, both short term and long term, to achieve the IVDS project's vision, mission and goals.
Workshop Format: In-person in Alexandria, VA.
Workshop Scope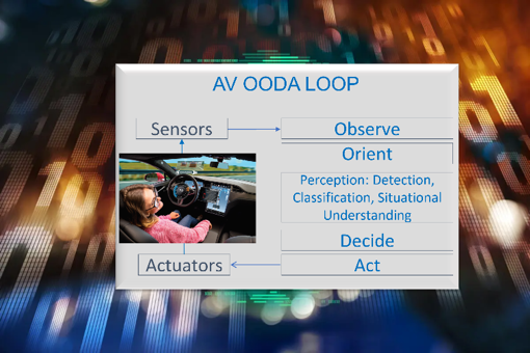 Sensors (Observe): Electro-Optical, Infrared, Radar, GPS, MEMS, Vehicle subsystems (Engine/Brakes/etc) performance, health & status sensors
Algorithms (Orient & Decide): Catch-all for all the Feedback Control System Functions, incl. sensor processing and correlation, situational awareness, decision making, collision avoidance, etc.
Actuators (Act): Commands to Engine, Brakes, Steering
Processors: CPUs, GPUs, Software
Communication: Links to other cars and Traffic Signaling Systems
Driver Inputs: for L0 – L3 AVs
Current L0-L2+ Functions + Future L3-L5 capabilities